What is Croí's Couch to Wild Atlantic Way?
Croí's Couch to Wild Atlantic Way is a virtual mission where you can embrace the Wild Atlantic Way of life by walking, jogging or running this spectacular coastal route over the next six weeks. Once registered, start walking/jogging/running in your local area, following all COVID-19 restrictions, and move down the Wild Atlantic Way on our virtual map!
How do I register for the event?
Register here to participate in one of our 10 exciting challenges! The process is easy, and once you register we will send you step by step instructions to get set-up and offer assistance and support along your journey.
How much does it cost?
The registration cost is just €15 per person. Each participant will receive a limited edition, eco-friendly Couch to Wild Atlantic Way Medal.
If you would like to register a team or family, please contact christine@croi.ie.
Am I required to fundraise?
Anyone who raises over €50 will receive our NEW Couch to Wild Atlantic Way limited edition, thinsulate, beanie hat. All funds raised will enable us to continue providing our vital support to those suffering from heart disease and stroke, who are most at risk during these difficult times.
Here are some helpful tips to help you reach this goal:
Share your Mission with your friends on social media and encourage them to support you. Share photos and videos from your walk, jog or run activities, to show everyone what you are doing.
Use the iDonate 'Share' functionality to inspire others to support you, sharing your distance covered or funds raised to date.
Create your very own team, or encourage others to compete against you in the same mission.
Share your fundraising page URL in an email with work colleagues, friends and family, or even create a WhatsApp or Facebook Messenger group and share the link with your friends.
Use the hashtag #CouchtoWAW and tag @croiheartstroke when sharing content on social media to raise awareness of the challenge.
How can I fundraise for the challenge?
You can fundraise for Croí on your Wild Atlantic Way challenge a number of ways, including:
Through your iDonate fundraising page. Share your fundraising page on social media, by email, message or Whatsapp.
Create a Facebook Fundraiser in aid of Croí, learn more here – https://www.facebook.com/fund/CroiHeartStroke/
Use a sponsorship card, contact lisa@croi.ie and we will post a card to you.
Do I have to complete the entire Wild Atlantic Way distance?
No, there are 7 county coastal routes to choose from so you can pick the one that is most suited to your current activity level.
Alternatively, you can create a team and take on one of our longer routes which include: the entire Wild Atlantic Way challenge of 2,774km; the Donegal to Galway challenge of 1,624km; or the Galway to Cork challenge of 1,462km.
See the full list of challenge routes here.
How do I know which county's coastal distance is suitable for me?
This will depend on your current fitness level. Have a think about how much walking/jogging/running you do at the moment.
If you get out 1-2 times per week, the Sligo/Leitrim Challenge would be best for you. If you get out 3 or 4 times per week, then the Clare Challenge would be suitable for you. If you're out most days of the week, one of the longer county coastal routes would suit you best (Donegal, Mayo, Galway, Kerry or Cork).
The table below tells you how long each challenge is and gives you a guide on how many kilometers you should walk every day in order to complete your Couch to Wild Atlantic Way challenge in 6 weeks. As a lot of us now have step counters on our mobile phones, we have also included how many steps per day you would have to do to complete the challenge within the 6 weeks.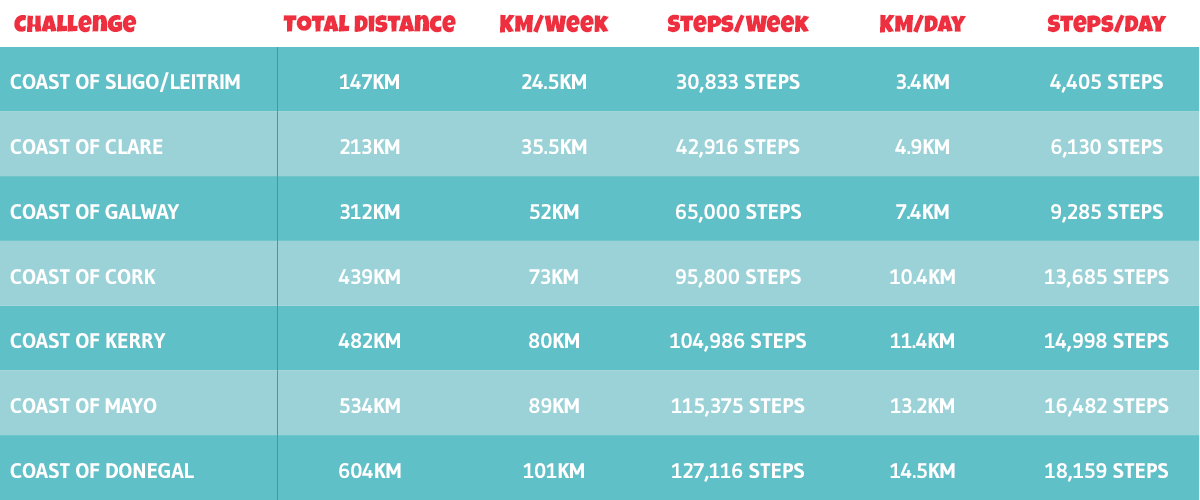 Useful numbers to know:
1 kilometre = approx 1250 steps

Example: 5678 steps in one day = 5678/1250 = 4.5kilometres

10 kilometers = 12500 steps
20 kilometers = 25000 steps
100 kilometers = 125000 steps
Some mobile phone pedometers only provide distance in miles. In this case use the calculation below:

1 mile = 1.6 kilometres = approx 2000 steps
How do I set up my iDonate page?
Once you register for your chosen mission, you will receive an email from Croí which will contain a link to activate your fundraising page. Once you click the link, it will take you to your iDonate Couch to Wild Atlantic Way fundraising page, which you can personalise and link to fitness apps etc…
How do I navigate between my Mission Page and my Account page?
Your 'Mission Page' is the page that you can share with friends and family. It details your funds raised and virtual map, showing the distance you have travelled. You can navigate to your Mission Page by clicking your profile picture on your Account Page, or your unique iDonate link, also found on your Account Page. See below how to get from the Account Page to the Mission Page.
Your 'Account Page' is only available to you and it is where you can personalise your Mission Page and enter in your KMs travelled. You can navigate to your Account Page by clicking 'My Account' at the top of your Mission Page and logging in with your email and password (sent in your initail email from iDonate). See below how to get from the Mission Page to the Account Page:
To personalise your Mission Page, go to your Account Page and click 'Edit Page', under your profile photo. Here, you can edit things like your page title, profile photo, description, goals etc. See below:
To add your KMs travelled, go to your Account Page and click the pen icon beside 'KMs completed' – enter your KMs here.
How do I record my steps or the distance I walk, jog or run?
Most mobile phones come with a built in pedometer/step counter. This is an app that can count the steps you take per day. If you do not have one on your phone it is very easy to download a pedometer app. Follow these steps to get a free pedometer app on to your mobile.
You can manually enter your steps on the iDonate Dashboard Page by clicking 'My Account' and then the pen icon opposite the 'My Training.' Note: you enter total km's here, including your most recent activity.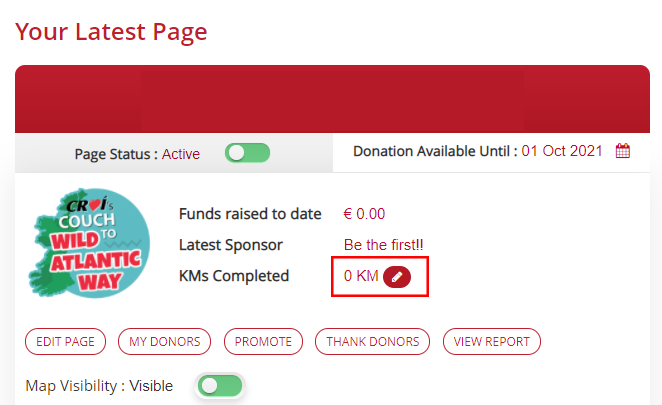 Alternatively, if you have a preferred fitness app such as Strava, Fitbit, Garmin or MapMyFitness, you can link it to your iDonate page.
Useful links:
If you are still experiencing issues please contact helpdesk@idonate.ie
How do I track my progress?
On your mission page, you will see a map with your chosen route along the Wild Atlantic Way. Here, you will be able to see your marker move along the route according to the distance you cover each time you get out for a walk, jog or run. To check the leader board for your specific mission, click the mission in the 'Mission Details' box.
How can I change the dates that my fitness trackers records on my iDonate page?
The official start date of the Couch to Wild Atlantic Way challenge is March 17th. However, if you have already set up your page before this and notice your distance is being tracked, you can reset it to start tracking from March 17th. Or, if you want to adjust the dates that your distance will be recorded from, you can set that up too. See how to do this and adjust your dates here. 
How do I get to experience the beauty of the Wild Atlantic Way?
On your mission page you will be able to see your route taken from the Wild Atlantic Way, on this map you will see landmark icons which will reveal spectacular videos of some of the most magical locations along that particular Wild Atlantic Way Route.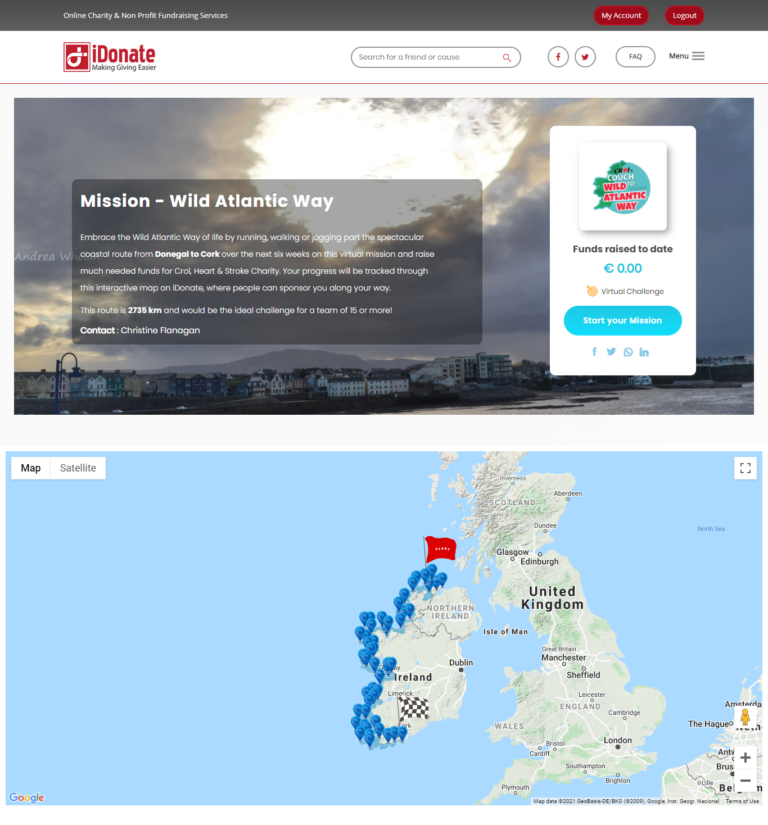 What are health benefits to increasing how many steps I walk per day?
Recent research strongly suggests that doing more steps per day significantly decreases a person's risk of dying prematurely. One study reported that increasing our daily step counts by approximately 2,000 steps significantly reduces blood pressure. It has also been found that a greater number of steps per day is associated with reduced body weight and improved blood sugar control.
Our mental health also benefits from taking more steps per day. A large international workplace intervention called "Happy Feet" asked employees to walk 10,000 steps per day for 100 days. Positive changes to well-being and reductions in stress, anxiety and depression were described. Interestingly, these changes to mental health occurred regardless of whether or not the employees reached the 10,000 step target. So the take home message is to move more and you will feel better!